The 20 best restaurants in Los Angeles you need to try
Modern steakhouses, seafood shacks, stellar tasting menus and the city's…
Modern steakhouses, seafood shacks, stellar tasting menus and the city's best pasta—we present the best restaurants in Los Angeles.
There isn't a more exciting place to eat right now than Los Angeles. While we've built our gastronomic reputation on incredible food trucks and off-the-beaten-path tacos, chefs are now flocking to our fair city to take some serious risks, turning L.A. into a true culinary mecca. Our expert local critics have narrowed down the best of the city's food scene—the freshest, most inventive and most memorable spots—right here in the Time Out EAT List.
At its core, the Los Angeles dining scene thrives on its diverse and welcome blend of internationally inspired and genre-bending cuisines, which creates some of the world's best omakase restaurants, fine-dining institutions and French-bistro gems tucked into strip malls.
Our critical experts scour the city for great eats, great value and insider info (like an Arts District patio bar's unbelievable burger deal during happy hour). We value fun, flavor, freshness—and value at every price point. We update the EAT List monthly, plus whenever there's a truly spectacular new opening. It could be a mega-hyped destination restaurant or a pop-up-turned-permanent in a Chinatown plaza: If it's on the list, we think it's awesome—and we bet you will, too.
Eaten somewhere on this list and loved it? Share it with the hashtag #TimeOutEatList. Plus, find out more about how we decide what makes the list.
L.A.'s best restaurants
Restaurants, Seafood
Hollywood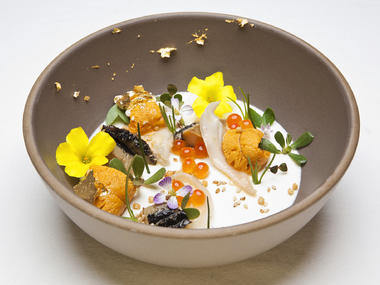 For serving a city next to the Pacific, Michael Cimarusti's Providence somehow still manages to surprise and reinterpret seafood. His mostly-aquatic menu deftly showcases the bounty of the West Coast, as well as the globe: Maine lobster, Norwegian cod and king salmon from the Quinault River in Washington are among the menu's varied choices. Cimarusti may not always earn locavore points, but his knack for finding the best product will make you focus only on the perfect bite hanging from your fork, and nothing else. For the truly adventurous—and deep-pocketed—there's the 10-plus–course Chef's Tasting Menu ($240) where luxury fare including caviar, truffles and A5 wagyu beef are the catch of the day.
Downtown Financial District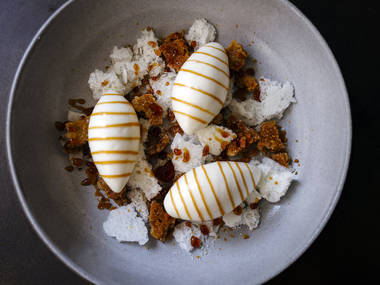 It's hard to imagine dining in a more luxurious setting. Housed in the former Bank of Italy building, L.A.'s own NoMad Hotel finally arrived—and instantly made its corner of DTLA one of the city's most stylish and dramatic dinner destinations. Lounge among velvet pillows and sleek settees in the main lobby as Michelin-starred chef Daniel Humm and executive chef Chris Flint execute classic French technique with modern sensibility. NoMad's iconic roast chicken—stuffed with brioche, truffle and foie gras—thankfully made its way from NYC to the West Coast, but L.A.'s hyper seasonality results in even more jaw-dropping dishes, some involving Santa Barbara sea urchin, a colorful array of local lettuces and foraged herbs. End with an artful dessert composition or that vibrant baked Alaska layered with Meyer lemon and strawberry.
Beverly Hills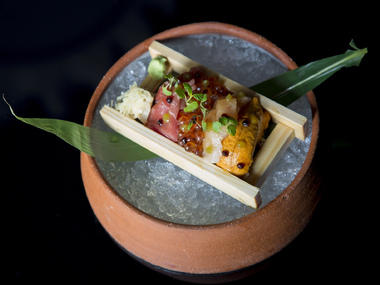 Spago is both the old standby and the new kid on the block, thanks to an ever-changing menu that makes the restaurant seem altogether modern and new. Don't worry, you can still ask for the smoked salmon pizza if you crave it, and Spago purists will be pleased to hear that Wolfgang Puck's flagship is still refreshingly old-school when it comes to presentation. The menu from managing partner and executive chef Lee Hefter and chef de cuisine Tetsu Yahagi features contemporary additions such as Spanish octopus in young coconut with charred habanero, and grilled lamb with falafel morsels resembling French macarons. The handmade chestnut agnolotti is particularly outstanding—opt for the truffle version when it's in season. Spago's been serving stellar cuisine since the Reagan years, proving that age ain't nothing but a number.
Downtown Arts District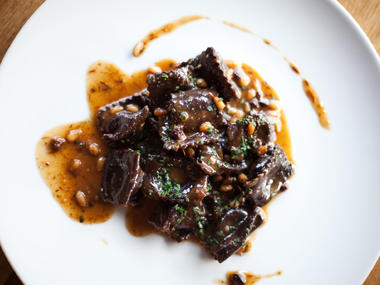 A few years after opening and Ori Menashe's Bestia continues to turn tables and require weeks-out reservations. It shouldn't be surprising, given this spot's penchant for nailing straightforward but innovative Italian food that arrives hot from that centerpiece of a wood-burning oven. Some of Bestia's menu highlights have become modern icons of L.A.'s dining scene: the Spaghetti Rustichella—a small pyramid of noodles under dungeness crab, citrus, Calabrian chili, Thai basil and onion seed—is synonymous with this hard-to-land reservation, as is the currants-and-pistachios-laden Agnolotti alla Vaccinara,filled with rich braised oxtail. The eclectic and oft-rotated wine list is Italian-inspired but interntionally and broadly sourced, providing new and surprising twists to your meal with every visit, though the food menu may remain the same.
Hollywood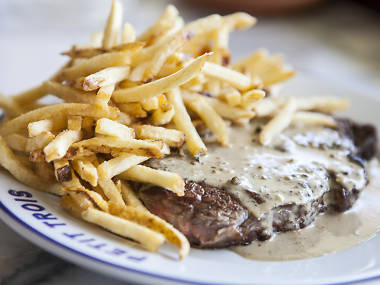 If Ludo Lefebvre's Trois Mec is the French chef's ode to ingenuity, Petit Trois is his homage to simplicity. To watch him build an omelet—or anything, really—in this stripped-down bistro is a thing of beauty. The menu is a sparse list of classic French dishes—steak frites, mussels marinières, chicken leg—and the playlist is '90s hip hop and classic rock, an unusual mix but one that furthers Lefebvre's ethos of this being a casual French spot, a place to indulge in simple, good food without pretense. If the Hollywood strip mall exterior doesn't sell you on this idea, the food certainly will, and it will keep you coming back for more; lines of repeat customers and those aching for Lefebvre'sbubbling French onion soup form at the door just before opening, even on weekdays. Not to be missed is the Big Mec, an absolute tank of a burger that may knock you out for the rest of the day, but are you really going to skip that foie gras bordelaise?
Downtown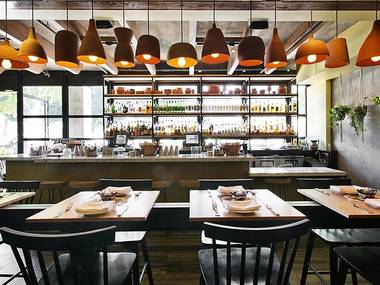 Chef Ray Garcia's Broken Spanish is bright and colorful with tables boasting hand-woven doilies and Mexican pottery, while the food is decidedly down to earth but still ambitious in concept. He may be cooking ingredients like lamb neck and oxtail, but they come wrapped simply, in tamales and quesadillas—hearty and elevated at the same time. A fiery shrimp dish with chili, pequin peppers and pineapple may leave your mouth tingling for a good five minutes, while a tamer, cellophane-shrouded rabbit stew emits the most incredible smell when unwrapped. Garcia perfectly marries tradition with innovation, helping to define what modern Mexican cuisine is and everything it should be.
Downtown
Many of chef David Schlosser's dishes require the kind of time, care, delicacy and effort that defines kappo cuisine, a kind of Japanese tasting menu or omakase fine-dining meal. In an almost hidden dining room in DTLA, Schlosser tenderly ferments shrimp, grinds nubs of fresh wasabi, and steams pork jowl with California-grown rice in a heavy iron pot to create some of the most intricate flavors that can take months to develop. Order à la carte, or, more recommended, go for the omakase, which starts at $65 per guest—you'll be in excellent hands. Be sure to sit at the bar to see the master at work.
Boyle Heights
One of L.A.'s most old-school players is known for its deep-fried shrimp tacos—"TACOS DE CAMARON" is painted on the truck in giant letters, for good reason—but Mariscos Jalisco also serves fresh-to-death ceviches, toastadas and oysters on the half shell. Their signature tacos dorado de camaron live up to the hype, with flavorful and fresh shrimp folded into a corn tortilla that is then fried to a golden brown and topped with thick slices of avocado and a vibrant and complex salsa roja. You'll also want to save room for their legendary tostadas such as the Poseidon, which comes topped with shrimp ceviche, octopus and a fiery red aguachile of shrimp.
Hancock Park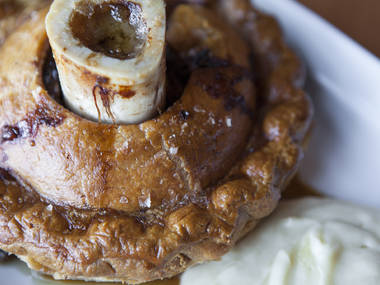 Few restaurants can accomplish what the shoebox setting of chi SPACCA can. With one of the best charcuterie programs in the city and a stunning open kitchen, Nancy Silverton's temple to meat flame-grills tomahawk porkchops, cures fennel salami and dry-ages massive Flannery Beef steaks so big they almost feel like they rock the table when they land. This is the rustic Italian steakhouse that's worth the meat sweats, and it's worth the splurge; you may be spending around $100 on steak, but don't think about skipping the sides of roasted sustainable veggies—nor that Focacdi Recco, which oozes stracchino cheese.
Koreatown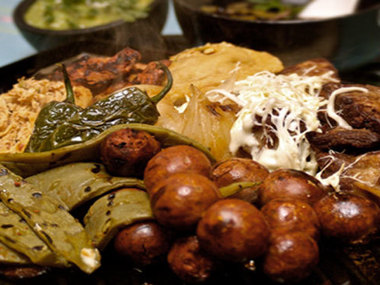 Guelaguetza has served as a culinary institution in L.A. since the Lopez family opened the restaurant in 1994. Named after an Oaxacan dance, the James Beard Award-winning spot is known for its unparalleled moles, which are paired with plates of hearty tacos, rice, meat and vegetables. Family recipes and imported Oaxacan ingredients make this one of the city's strongest and most authentic regional Mexican restaurants in not only Los Angeles but the country. Live music usually accompanies your meal (breakfast, lunch and dinner are available here), and it's not unusual to see diners get up and dance. Want to try and replicate your dish at home? An attached store sells Guelaguetza's mole—red, black and coloradito—along with ingredients to make their fantastic micheladas.
Venice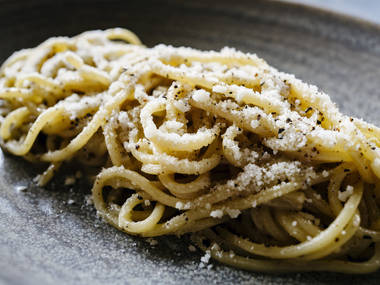 We can all thank Evan Funke for finally ridding Angelenos of their reputation as being nothing but a bunch of carb-afraid juice cleansers. Not only did our city rush to embrace the chef's handmade pastas, bubbly focaccia and blistered-crust pizzas—the country did, too, earning Felix awards hand over fork-clenching fist. Venice's newbie-turned-mainstay became an L.A. staple almost overnight, and it's clear to see why: The Bologna-trained Funke keeps Old World technique alive and more delicious as ever with dishes like his now-classic sfincione and the mezze maniche carbonara. We'll skip the green juice and opt for the impressive amari collection, thanks.
Downtown Historic Core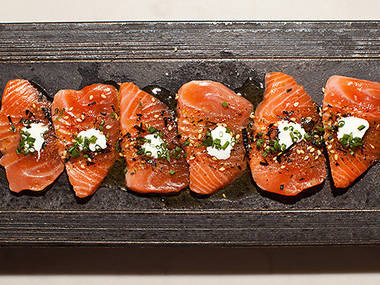 Chef Josef Centeno's built quite the DTLA restaurant empire, strategically planting four restaurants near in location but not in theme. There's sandwich shop Bäco Mercat, Tex-Mex haven Bar Amá and the veggie-forward P.Y.T., but the shining gem is his Italian-meets-Japanese den, Orsa & Winston. At first, the small dining space began as a tasting-menu concept—since then, it's evolved to include à la carte weekday katsu sandos and grain bowls at lunch, and on weekends, one of the city's most innovative brunches. Where else can you find house-smoked fish plates, masterful matcha and yuzu croissants, donabe pots brimming with nuanced soups, and Centeno's hyper-creative, genre-bending and always-changing tasting menu?
Venice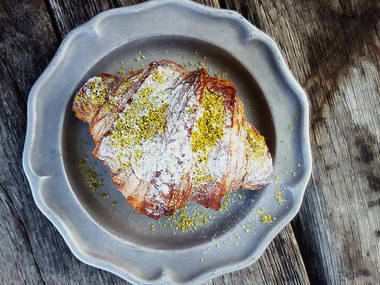 It's going to be busy, it's going to be loud and you're going to want one of everything—these are all necessary perils when dining at Travis Lett's phenomenal bakery and casual deli-cum-restaurant. Gjusta operates out of a nondescript warehouse, but step inside and you'll find a narrow corridor with glass cases of sweet and savory treats to the left, and jars upon jars of house-made jams and pickled vegetables to the right. On the pastry side, slices of fruit are folded into sugar-glazed dough for a morning indulgence; on the savory side, a rainbow of sandwiches and salads packed with local produce make for an ideal lunch and the definition of California cooking. You can even pick up cuts of meat and fish to-go, then take your haul for a picnic on the beach.
Westlake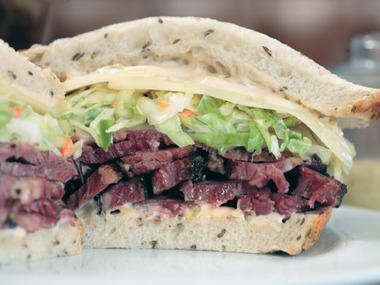 New York may have Katz's, but we've got our own legend-status pastrami shop and it could very well be the best in the country. (Did we stutter?) Operating out of the same storefront since 1947, this James Beard Award-winning deli always hits the spot thanks to hot, hand-cut pastrami from recipes that've been passed down for generations. You'll find all the trappings of a traditional Jewish deli in this throwback—we're talking matzo ball soup, bagels with schmear, chopped liver, cheese blintzes—but the move is the pastrami, and specifically the #19: hot pastrami with swiss, slaw and Russian-style dressing on rye. You can even order curbside pickup, but come on—you're going to want to sit in those old-school brown leather booths for full effect.
East Hollywood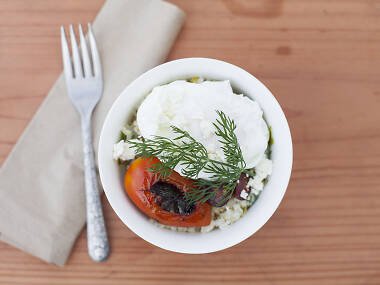 What started as a preserves company is now one of L.A.'s most coveted eateries, and a quintessential stop for locals and tourists alike: Sqirl, the small nook of a restaurant that serves breakfast and lunch made from farm-fresh ingredients. Jessica Koslow is still churning out jams, but now you find them spread on thick cuts of brioche with Sqirl's house-made ricotta, in addition to jars you can bring home. If you're not ordering toast, you're probably ordering one of the rice bowls, filled to the brim with the best ingredients L.A. has to offer: sorrel pesto and radish, sheep feta and a poached egg, scallions and cilantro and house sausage. The only downside? Everyone loves it here, so Sqirl can accumulate a monstrous line—especially on weekends. Our tip? Show up early and on a weekday, and always keep your eye on the daily specials.
Beverly Hills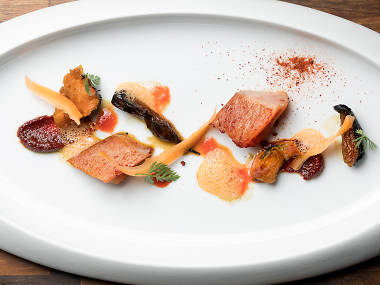 Beverly Hills is full of high-profile restaurants perfect for an expense-account or date-night splurge, but one of the finest and most memorable is Curtis Stone's ambitious temple to the tasting menu. Maude first gained buzz for its ingredient-driven concept—swapping menus out every month—but the restaurant recently flipped to a new and even more enticing format. Now, the Aussie celebrity chef and his team serve delicate, thoughtful and intricate courses inspired by a different wine region every quarter. Meander through Rioja, Burgundy and even the Central Coast—menu depending—with a range of wine-pairing options to take your meal from phenomenal to one of the best dining experiences you'll have all year.
Photograph: Courtesy Park's BBQ
Restaurants, Barbecue
Koreatown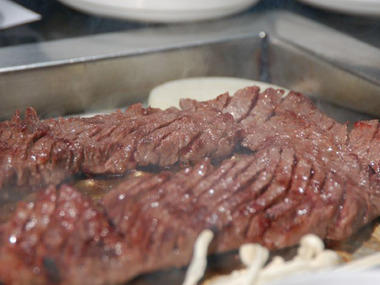 This isn't your average Korean BBQ joint. Park's takes meat more seriously than most, serving prime and kobe-style beef in a setting that feels a bit more modern than nearly anywhere else in K-town. Grab a large crew to try a bit of everything: There's boneless wagyu short rib, seasoned pork belly, succulent house galbi, beef tripe and nearly anything else you can imagine throwing onto the grill, plus an array of banchan—and a full menu of entrées such as spicy black cod, stone-pot octopus, soup with rice cakes, and requisites like expert kimchi pancake. Expect to dish out a few more dollars for the meat, but you can also expect great service.
Downtown Arts District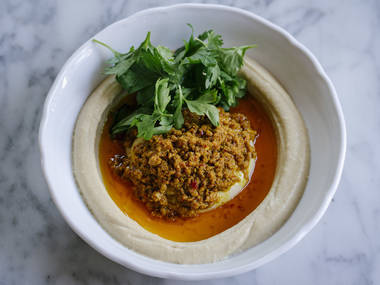 Husband-and-wife team Ori Menashe and Genevieve Gergis redefined modern-Italian food with Bestia, but Bavel, their newest, feels much more personal, and even traditional. That's not to say the Middle Eastern menu is stuffy or stodgy—there's lamb neck shawarma, foie gras halva, spiced Persian ice cream, and duck 'nduja hummus, after all. But there's a comfort in the cuisine at Bavel, which pays tribute to both chef-owners' heritages as the flavors wind their way through Israel, Egypt, Morocco and Turkey. The space livens up the already exciting menu: You can sit on the patio, but inside, near the open kitchen and under the waterfall of hanging vines, is where the action always is.
Silver Lake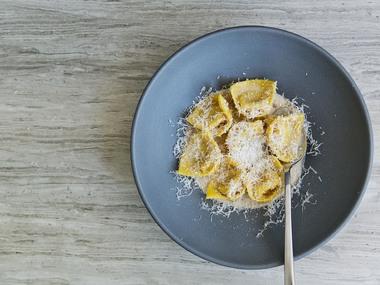 One of the city's best date-night destinations since 2014, Alimento holds its own against the city's onslaught of impressive, newer Italian restaurants. The reasons for this are many, but at the core, it's all due to Zach Pollack's creativity. The Italy-trained chef pulls inspiration from various regions without being a stickler for form, resulting in near-iconic dishes such as the Pigs in a Blanket, a fork-and-knife quasi-sandwich pile of mortadella, stracchino cheese and brovada between spelt pastry. The handmade and delicate pastas are the real stars, though—especially the tortellini in broth, and the radiatori with a rich braised-pork sugo in kale and fennel pollen. Split a few of these dishes in candlelight and it's hard not to fall in love—with your tablemates, with the food, with anything, really.
Encino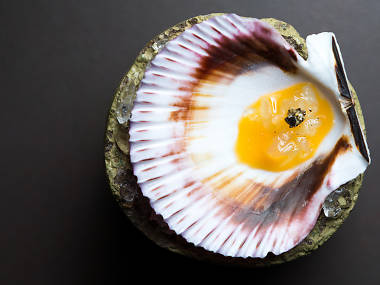 When chef Phillip Frankland Lee moved his popular Scratch Bar from Beverly Hills, he began laying the groundwork for his current restaurant empire in an Encino strip mall—and a growing empire that's now expanded into Montecito. The gem of his concepts, though, is still the open-kitchen tasting menu of Scratch Bar, a whimsical yet exacting procession of 15 or so seasonal courses, each dish more inspired than the last. Begin your experience with a trio of welcome cocktails and snacks at a bar exclusive to Scratch guests, before moving into the intimate dining room where you see Frankland Lee and his team building each dish. Be sure to stick around for the additional trio of desserts made by pastry chef, co-owner and Lee's wife, Margarita Kallas-Lee, whose skill is worth a trip to the restaurant alone.
Original Article: https://www.timeout.com/los-angeles/restaurants/best-restaurants-in-los-angeles
Tags